Home renovations and improvements can be a great way to earn top dollar for your home. On the other hand, home improvements can be time-consuming and lead to larger problems. In the current market, sellers' may find renovations aren't worth the headache. Keep reading to learn what factors could influence your decision.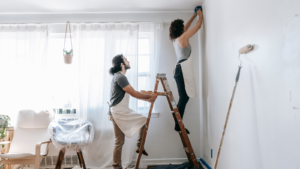 Things to consider:
There is a supply shortage of homes so buyers might be more inclined to do their own renovations.
When there are fewer options on the market, buyers cannot be as demanding on the upgrades they desire. Because sellers have more power in the market you might not need to do any renovations. That being said some upgrades can give you the potential for over asking price offers and bidding wars. 
Not every project will be worth your time or money.
It is important to weigh the options when investing your time and money into a project. Before getting started with a large project, consider staging your home and the value it could add to your home. Check out our staging tips here. 
All of your pandemic projects could have paid off.
Many of us have taken on several projects during quarantine and we can highlight those in your listing. For example, the upgrades made in your backyard could increase the value of your property.
If you are ready to sell contact us today! It is important to weigh your options when deciding to remodel. Contact Mo to find out what projects could give you the best return on investment.