There are so many fun things to do in Sacramento, CA. Keep reading for some of the fun events happening this March.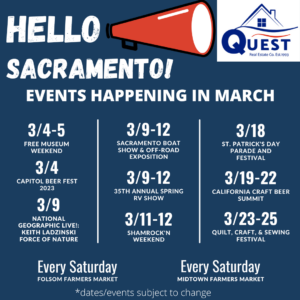 When: March 4-5, 2023
Where: 20+ Museums
"2023 marks the 25th consecutive year that Sacramento Area Museums have collaborated to present a free museum experience! This year, 20+ amazing museums located throughout the greater Sacramento area are excited to present a two-day Free Museum Weekend! Similar to last year — and in an effort to prevent large crowds — advance tickets are required, capacity is limited, and availability may fluctuate by museum." Learn more here.
When: March 4, 2023
Where: Capitol Mall, Sacramento, CA 95814, United States
"Come out and help us celebrate 13 YEARS of the Capitol Beer Fest!! Expect the same high-quality event you've come to know and love that includes four hours of some of the nation's best brewers, food trucks, and live music!" Learn more here.
National Geographic Live!: Keith Ladzinski Force of Nature
When: March 9, 2023
Where: Harris Center for the Arts, 10 College Parkway, Folsom, CA 95630
"Keith Ladzinski: Photographer and Filmmaker. From the towering mountains of the Himalaya to the slot canyons and stone arches of the desert, Earth is shaped by the raw power of Mother Nature. Capturing this might and majesty takes a special skill set—and a willingness to sign up for the seemingly impossible. Keith Ladzinski, adventure photographer and filmmaker, is renowned for his ability to get the shot in some of the world's most inaccessible and inhospitable environments. His unique combination of skills makes him a natural choice for assignments that require the talents of both a top athlete and a master of photography. Ladzinski's subjects are as varied as the dozens of countries he's visited. He has swum with alligators in the Florida Everglades, chased tornadoes across the American Midwest, hung from massive natural arches in China, and explored the effects of climate change in Antarctica. His fearless spirit leads him to the furthest reaches of all seven continents, and his hope is that the stunning images he captures inspire new understanding of and respect for our planet." Learn more here.
Sacramento Boat Show & Off-Road Exposition
When: March 9-12, 2023
Where: 1600 Exposition Blvd Sacramento, CA 95815 United States
"THE LARGEST POWER BOAT SHOW IN NORTHERN CALIFORNIA! ONE LOCATION. ONCE A YEAR. WITH ENOUGH COMBINED HORSEPOWER TO SEND A ROCKET TO SPACE! The Sacramento Boat Show is the largest Power Boat show in Northern California and each year thousands of boating enthusiasts visit the show to check out the latest boat models and accessories. The show features more wakeboard boats, tournament ski boats, fishing boats, family runabouts and pontoon boats than any other event in Northern California. Exhibits range from boats 8 to 35 feet, houseboats up to 70 feet, and scores of accessories to enhance the thrill of the water sport and fishing lifestyle." Learn more here.
When: March 9-12, 2023
Where: 1600 Exposition Blvd Sacramento, CA 95815 United States
"The largest display of the best Sacramento area RV dealers. Over 35 years of bringing the best of rvs at the best prices. Again joining the boat association to bring you 2 shows for the price of 1. Don't miss Sacramento's premier boat and RV event!!" Learn more here.
When: March 11-12, 2023
Where: Sutter Health Park, 400 Ballpark Dr., West Sacramento, CA 95691
"Get a little run in before you party it up on St. Patrick's Day! The Shamrock'n Weekend includes a Leprechaun Dash, 5K, 10K, and half-marathon options. Can't make it to Sacramento to race? Make your own lucky course and run at your own pace. Saturday promises to be a day of fun! Run or walk the 5K or 10K and then enjoy watching the little ones chase a Leprechaun for the half-mile Dash. Rock to the music on the course, finish on the field and enjoy post-race festivities, beer and food. On Sunday, 13.1 is filled with fun! Live music, crazy costumes, on-field finish, post-race beer and food — It's a party you don't want to miss! And back by popular demand is the Doubleheader. Run the 5K or 10K on Saturday plus the Half marathon on Sunday and receive a third Doubleheader medal plus a commemorative Doubleheader shirt. The sole beneficiary for the Shamrock'n weekend is Sacramento-based Triumph Cancer Foundation." Learn more here.
St. Patrick's Day Parade and Festival
When: March 18, 2023
Where: Old Sacramento Waterfront
"If it's the Luck of the Irish you're looking for, come find it at Old Sacramento Waterfront! A parade, live musical entertainment, outdoor beer gardens, and a chance to find Leprechauns hiding throughout the charming historic district." Learn more here. 
When: March 19-22, 2023
Where: SAFE Credit Union Convention Center, 1401 K Street Sacramento, CA 95814
"The California Craft Beer Summit will be held at the Safe Credit Union Convention Center in Sacramento on March 19-22, 2023. The immersive multi-day event will include an interactive expo featuring craft beer supply chain partners and service providers, educational seminars led by industry leaders, an expanded legislative advocacy day at the State Capitol, a curated beer and food tastings where local chefs and brewers collaborate on pairings." Learn more here.
Quilt, Craft, & Sewing Festival
When: March 23-25, 2023
Where: 1600 Exposition Blvd Sacramento, CA 95815 United States
"At the Quilt, Craft & Sewing Festival you will find a wide variety of Sewing, Quilting, Needle-Art, and Craft supply exhibits from many quality companies." Learn more here.
When: Every Saturday, 9:00 am – 1:00 pm
Where: 20th Street between J & L streets and K Street between 19th and 21st streets
"Owned by the Midtown Association, this free, family-friendly market takes place year-round, every Saturday, on 20th street between J and L streets and on K Street between 19th and 21st streets. The Midtown Farmers Market showcases local agriculture, prepared foods, and artisans and crafters while providing an opportunity for Midtown residents and business owners to discover regionally grown foods." Learn more here.
When: Every Saturday, 8 a.m. to 1 p.m., year-round!
Where: Located in the Historic District Plaza.
"Saturday Farmers Market around the Historic Railroad Turntable and Public Plaza in Historic Folsom every Saturday, 8 a.m. to 1 p.m., year-round! Over 40+ farmers/vendors represented. Local Produce & Live Music. Located in the Historic District Plaza. Certified farmers' locally grown seasonal fruits and vegetables. Freshly made baked goods, fresh eggs and dairy items, live music and so much more! PUBLIC PARKING: Please park in the parking structure located at 905 Leidesdorff Street at the corner of Reading Street and Leidesdorff Street." Learn more here.
*event times and dates are subjected to change*