Happy September!
There are so many fun things to do in Sacramento, CA. Keep reading for some fun events happening this September.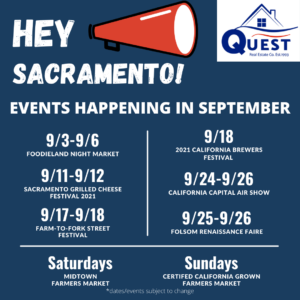 When: September 3-6, 2021
Where: Cal Expo
"FoodieLand Night Market is an Asian-inspired multi-cultural food and entertainment event taking place at Cal Expo. With over 150 vendors, the night market brings you a variety of amazing foods, arts, crafts, games, and entertainment for the whole family." Learn more here.
When: September 11-12, 2021
Where: Southside Park, 2115 6th Street Sacramento, CA 95818
"The Sacramento Grilled Cheese Festival is a full weekend dedicated to the one food you never out grow…. GRILLED CHEESE! We've paired our grilled cheese with everything from craft beer to bounce houses so we've got something for everyone. Choose the event that fits your tastes, or come to both and experience everything grilled cheese has to offer. Saturday's event is limited to adults 21+ and will feature UNLIMITED samples of specialty grilled cheese sandwiches, craft beers, regional wines, and desserts, plus a collectible glass, music, and games. Sunday's event is all ages, and will feature live music, a kid zone, games, and more. Attendees can purchase sandwich samples directly from the participating restaurants." Learn more here.
When: September 17-18th, 2021
Where: Capital Mall
"The harvest season's most anticipated music and food festival will return to Sacramento's Capitol Mall on Friday, September 17 and Saturday, September 18, 2021. Top music artists will headline the festival's two-day concert series, and visitors will find more than a mile of local food, regional wines, craft beer, cooking demonstrations and much more. The festival is admission-free." Learn more here.
When: September 18, 2021
Where: Discovery Park, Sacramento
"Mark your calendar for this year's event – Saturday, September 18th, at Discovery Park, where we'll celebrate our 27th year of GREAT beer in the park! Our event will raise valuable funds for WEAVE and Runnin' for Rhett along with other local children's charities we support through Point West Rotary. " Learn more here.
When: September 24-26th
Where: Mather Airport, 10510 Superfortress Avenue Sacramento, CA 95655
"The California Capital Airshow will roar across the skies of the region this year delivering thrills, chills, and jaw-dropping excitement. featuring the U.S. Navy Blue Angels, U.S. Army Golden Knights, Royal Canadian Air Force CF-18 Demo Team, USAF F-16 Viper Demo, unforgettable theatrical tribute performances, world-class aerobatics, pyrotechnics, miles of displays, interactive exhibits, music, food, and more!" Learn more here.
When: September 25-26, 2021
Where: Folsom City Lions Park, 403 Stafford Street Folsom, CA 95630
"This year's Folsom Renaissance Faire will feature three stages of continuous entertainment, action-packed shows, music, dancing, jesters, Shakespearean vignettes, expertly staged battles, storytelling for children and adults, archery, and much more. See brave and bold knights competing for the favor of the Her Majesty's Court and for their lady's affection during full-contact jousts held in the Queen's Tiltyard each day! Close to 80 merchants selling a wide array of arts and crafts, one-of-a-kind jewelry items, woodcrafts, artwork, ceramics, clothing, historic weapons, and leather goods. Whether you thirst a delicious drink or ALE or hunger for a Turkey leg WE will satisfy your taste buds with a wonderful variety of food and drink!!!" Learn more here.
Every Saturday in September, 8:00 am – 1:00 pm
Location: 20th Street between J & L streets and K Street between 19th and 21st streets
"Owned by the Midtown Association, this free, family-friendly market takes place year-round, every Saturday, on 20th street between J and L streets and on K Street between 19th and 21st streets. The Midtown Farmers Market showcases local agriculture, prepared foods, and artisans and crafters while providing an opportunity for Midtown residents and business owners to discover regionally grown foods." Learn more here.
Every Sunday in September, 8:00 AM – Noon
Location: ARDEN FAIR MALL. 1601 Arden Way – Sacramento
Certified California Grown Farmers Market has been supporting and Preserving California farmers since 1980. You can buy produce directly from California farmers. Shop local and enjoy some fresh produce! Learn more here.
*Events times/dates are subjected to change.