Happy May!
There are so many fun things to do in Sacramento, CA. Keep reading for some fun events happening this May.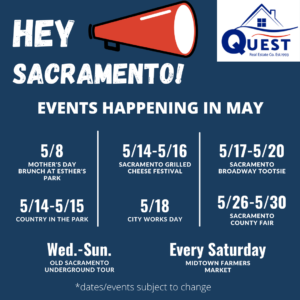 Mother's Day Brunch at Esther's Park
When: May 8th
Where: Ester Park
There's no better way to celebrate Mother's Day than with a brunch at Esther's Park! Relax with live music featuring The Solid Soul Trio Band and DJ Mad Sticks, and enjoy a full buffet provided by Fixins Soul Kitchen. Specialty cocktails including mimosas also available . Bring your Mom or entire family to experience a perfect Mother's Day experience with exceptional food and entertainment. Come out and enjoy an unforgettable Mother's Day at Esther's Park! For more information click here.
When: May 14th-15th
Where: Cal Expo
"Join New Country 105.1 at KNCI's Jiffy Lube Country In The Park 2022!
Enjoy live performances, outside under the stars, from Cole Swindell, Dustin Lynch, Chris Janson, Russell Dickerson, Chris Lane, Lauren Alaina, Jameson Rodgers, Tyler Rich, Niko Moon, Tenille Arts, Priscilla Block, Drew Parker, Nate Smith, and Sykamore! This is an all-ages show. Plus, enjoy FREE experiences like hometown bands performing on the Rising Country Stars Stage, a rock wall, a mechanical bull, lounges with pool tables, foosball, corn hole & more, line dancing, a relaxation pavilion, a suntan lotion bar, cooling zones, photo booths, & psychics!" For more information click here.
Sacramento Grilled Cheese Festival
When: May 14th-16th
Where: Southside Park
"A Sacramento Festival for Grilled Cheese Lovers… and let's be honest, that's pretty much everyone! The Sacramento Grilled Cheese Festival is a full weekend dedicated to the one food you never out grow…. GRILLED CHEESE! We've paired our grilled cheese with everything from craft beer to bounce houses so we've got something for everyone. Choose the event that fits your tastes, or come to both and experience everything grilled cheese has to offer. Saturday's event is limited to adults 21+ and will feature UNLIMITED samples of specialty grilled cheese sandwiches, craft beers, regional wines, and desserts, plus a collectible glass, music, and games. Sunday's event is all ages, and will feature live music, a kid zone, games, and more. Attendees can purchase sandwich samples directly from the participating restaurants." For more information click here.
When: May 18th
Where: Folsom City Lions Park
"Hop into the driver's seat of a garbage truck, climb aboard a fire engine, meet police officers, and more at Folsom's annual City Works Day. Learn about the city's wide variety of programs, amenities, and services during National Public Works Week.
Visitors of all ages can experience the city's work vehicles, such as tractors, trucks, and construction equipment for viewing, exploring, and even honking. City staff will share knowledge about their programs and professions." For more information click here.
When: May 17th-20th
Where: SAFE Credit Union Performing Arts Center
"Call it "musical comedy heaven" (Rolling Stone). Call it "the most uproarious new musical in years!" (The Hollywood Reporter). Call it TOOTSIE! This laugh-out-loud love letter to the theatre tells the story of a talented but difficult actor who struggles to find work until one show-stopping act of desperation lands him the role of a lifetime. "In these turbulent times, when the world seems out of balance, we need a place to let the good times roll," raves Rolling Stone. "TOOTSIE is it!" For more information click here.
When: May 26th-30th
Where: Cal Expo
"Established in 1937, The Sacramento County Fair is dedicated to the education of our community and its youth in agriculture, business and technology. This value-driven family event, strives to educate the community in a fun and safe way. Historically the Sacramento County Fair takes place during the week of Memorial Day. We are fun, affordable, and safe for the whole family! Our community enjoys our friendly atmosphere, traditional county fair competitions, agriculture displays, hands-on family activities, carnival, specialty food, & festival-style entertainment where all concerts are included in your fair admission. Let's Eat, Have Fun, and Celebrate." For more information click here.
Old Sacramento Underground Tour
When: Wednesday-Sunday
Where: Sacramento History Museum
"Come see and learn how Sacramento lifted itself up out of the flood waters during the 1860s and 1870s! Tour guides explain how the streets and buildings were "Jacked Up!" to avoid further flooding as visitors explore two spaces that were created by the city's successful raising process. This historical tour includes hollow sidewalks, sloped alleyways, and the Underground spaces themselves. Our colorful cast of guides ensures no two tours are ever the same!" Learn more here.
Midtown Farmers Market
When: Every Saturday, 9:00 am – 1:00 pm
Where: 20th Street between J & L streets and K Street between 19th and 21st streets
"Owned by the Midtown Association, this free, family-friendly market takes place year-round, every Saturday, on 20th street between J and L streets and on K Street between 19th and 21st streets. The Midtown Farmers Market showcases local agriculture, prepared foods, and artisans and crafters while providing an opportunity for Midtown residents and business owners to discover regionally grown foods." Learn more here.
*Events are subjected to change*