Happy August!
There are so many fun things to do in Sacramento, CA. Keep reading for some fun events happening this August.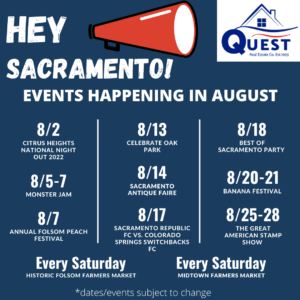 When: August 2, 2022
Where: C-Bar-C Park Picnic Area, 8275 Oak Ave, Citrus Heights, CA 95610, USA
"National Night Out enhances the relationship between neighbors and law enforcement while bringing back a true sense of community. Furthermore, it provides a great opportunity to bring police and neighbors together under positive circumstances. Sponsored by CHASEN Neighborhood Areas 7-8-9 and Sunrise Ranch Area 6. Join us for FREE Hot Dogs, Hamburgers, Chips, Drinks, Dessert Pot Luck, Games and Kids Activities." Learn more here.
When: August 5-7, 2022
Where: Golden 1 Center
"The fun begins at the Monster Jam® Pit Party where you can see the massive trucks up close, meet your favorite drivers and crews, get autographs, take pictures and enjoy many other family-friendly activities. This unique experience is the only place where you can get up close access to the Monster Jam teams. Plus, get an insider's look at how these trucks are built to stand up to the competition. This. Is. Monster Jam.® Activities and health and safety protocols are based on the event, venue, and local authorities' guidelines, which are subject to change at any time." Learn more here.
When: August 7, 2022
Where: 905 Leidesdorff St Folsom, CA 95630
"This annual favorite is back. Peach centric games, peach dessert contests, peach eating contest, peachy beer and wine tasting, loads of peaches and live music! Great fun for the whole family. Located in the plaza of Historic Folsom near the railroad round table." Learn more here.
When: August 13, 2022
Where: McClatchy Park
3500 5th Avenue, Sacramento, CA 95817
"Join your neighbors to celebrate the rich culture of Oak Park and connect with services in the community. There will be fun activities for the whole family, from Electric Vehicle riding, to a STEAM Kids Zone, resources, and more! There will also be free BBQ and Ice Cream to enjoy. The STEAM Zone will feature interactive displays and activities created by area universities, community partners, and local businesses to engage children of all ages in science, technology, engineering, and mathematics." Learn more here.
When: August 14, 2022
Where: 1 Sports Parkway, Sacramento, CA 95834
"300+ vendors from California, Nevada, and other neighboring states selling antiques, collectibles, and vintage goods that are 20 years old and older. This includes clothing, military, art, jewelry, lighting, glassware, silver, toys, furniture, farmhouse, mid-century, and so much more!" Learn more here.
When: August 17, 2o22
Where: Heart Health Park, 1600 Exposition Blvd Sacramento,CA
"Sacramento Republic FC faces off against Colorado Springs Switchbacks FC.Price: $15+
8:00 pm kickoff
Promo: *White Claw Wednesday" Get Tickets here.
When: August 18, 2022
Where: 985 Riverfront Street West Sacramento, CA 95691
"We're excited to resume one of Sacramento's most-recognized parties after a two-year hiatus with a new location. It happens Thursday, Aug. 18, 2022 from 5:30–9:30 p.m. A portion of ticket sales will be donated to the local chapter of Make-A-Wish. This year's soiree will be a food, beer, wine and craft spirits festival with a new look and feel. We'll party along the river with a backdrop of Sacramento landmarks." Learn more here.
When: August 20-21, 2022
Where: Green Village
E Park Road, Sacramento, CA 95822
"A weekend full of banana foods, music, art, health, and family fun! Sacramento's 11th Annual Banana Festival Banana Beach Bash is back. Bring your beach blanket and ball for an amazing time! The festival is a multicultural event celebrating cultures in Asia, Africa, and the Americas that use the banana as a source of food, art, and culture. Proceeds from the Banana Festival support the National Academic Youth Corps, a non-profit organization that does business with the Sojourner Truth Museum." Learn more here.
When: August 25-28, 2022
Where: SAFE Credit Union Convention Center
"The Great American Stamp Show (GASS) is the largest national postage stamp show in the country. The show is co-hosted by the American Philatelic Society, American Topical Association and the American First Day Cover Society. The free event is co-sponsored by the United States Postal Service who will also have a large retail presence and host a first day of issue during the show. Whether you are a new or experienced collector, the Great American Stamp Show packs four days of philatelic fun for the whole family." Learn more here.
When: Every Saturday, 9:00 am – 1:00 pm
Where: 20th Street between J & L streets and K Street between 19th and 21st streets
"Owned by the Midtown Association, this free, family-friendly market takes place year-round, every Saturday, on 20th street between J and L streets and on K Street between 19th and 21st streets. The Midtown Farmers Market showcases local agriculture, prepared foods, and artisans and crafters while providing an opportunity for Midtown residents and business owners to discover regionally grown foods." Learn more here.
When: Every Saturday, 8 am-1 pm
Where: 905 Leidesdorff St Folsom, CA 95630
"Join us on the plaza every week for our award winning Farmers Market! Enjoy fresh fruit and vegetables and buy directly from the farmers. Enjoy live music while you shop the huge variety of vendors. This year-round market is held rain or shine. High winds, heavy rain or lighting will cancel the market." Learn more here.
*Events are subjected to change*