Happy January!
There are so many fun things to do in Sacramento, CA. Keep reading for some fun events happening this January. Enjoy this magical family event!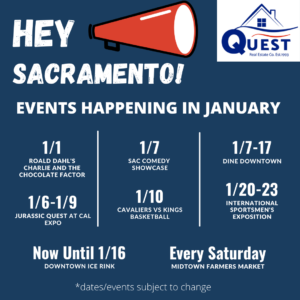 When: 1/1 at 1:30
Where: SAFE Credit Union Performing Arts Center
1301 L St., Sacramento, CA 95814
"Roald Dahl's amazing tale is now Sacramento's golden ticket! It's the perfect recipe for a delectable treat: songs from the original film, including "Pure Imagination," "The Candy Man," and "I've Got a Golden Ticket, "alongside a toe-tapping and ear-tickling new score from the songwriters of Hairspray. Get ready for Oompa-Loompas, incredible inventions, the great glass elevator, and more, more, more at this everlasting showstopper! This is a show that most everyone should enjoy, with its broad appeal across multiple generations. It does include very mild adult humor, and the children face some alarming repercussions for their actions while visiting the infamous Willy Wonka Chocolate Factory. Effects used in this production include strobe and flashing lights, haze and theatrical fog." Learn more here.
When: 1/6-1/9
Where: Cal Expo
"Our classic indoor adventure is back! Jurassic Quest and our SKYSCRAPING DINOSAURS bring supersized family fun – only here can you get up close to more than 100 LIFE-SIZE, REALISTIC dinos and ancient ocean dwellers! Loved by millions, only Jurassic Quest can bring families memories this BIG! You won't want to miss this!" Learn more here.
When: 1/7
Where: Sacramento Comedy Spot
1050 20th St.
Sacramento, CA 95811
Join a stand-up showcase featuring local Sacramento favorites!
Performances by:
-Robert Omoto
-Taylor Evans
-Ashley Monique
-Morgan Anderson
-Josh Means
Learn more about this event here.
When: 1/10 at 7 pm
Where: Golden 1 Center
Watch the Sacramento Kings take on the Cleveland Cavaliers. Learn more here.
When: 1/7-1/17
Where: View Participating Restaurants Here
"Get ready to feast! New, flexible price points! You choose – $25, $35 or $45 – for your 3-course, prix fixe menu. Restaurants can also choose to host Dine Downtown menus during brunch, lunch AND/OR dinner – at different price points, if desired. Eat in, or take out! You can decide if menus will be offered for dine-in only, or to-go, or both! " Click here to learn more.
When: 1/20-1/23
Where: Cal Expo
"We're Back! Five buildings. Hundreds and hundreds of exhibitors. Gear…gear…more gear! Plus special show features throughout this giant event that spotlight outdoor activities, gear and destinations–all hosted by experts. For parents with kiddos, the expo's Youth Fair–open all weekend–offers free, hands-on activities." Click here to learn more.
When: Until 1/16
Where: Ali Youssefi Square
7th & K Streets
"The Downtown Sacramento Ice Rink presented by Dignity Health is open! We're excited to skate with you this winter." Learn more here.
When: Every Saturday, 9:00 am – 1:00 pm
Where: 20th Street between J & L streets and K Street between 19th and 21st streets
"Owned by the Midtown Association, this free, family-friendly market takes place year-round, every Saturday, on 20th street between J and L streets and on K Street between 19th and 21st streets. The Midtown Farmers Market showcases local agriculture, prepared foods, and artisans and crafters while providing an opportunity for Midtown residents and business owners to discover regionally grown foods." Learn more here.
*Dates and times are subjected to change.