Don't give up the search just because you haven't found a home that checks every box. Let's connect to see which of your "must haves" can be accomplished after you purchase.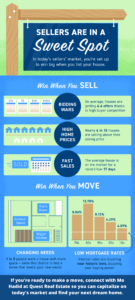 In today's sellers' market, you're set up to win big when you list your house.
That's because homes are selling fast, receiving 4.4 offers on average and often selling above the asking price. Then, when you buy your next home, you'll also win by addressing your changing needs and taking advantage of near historic-low mortgage rates.