Happy March!
There are so many fun things to do in Sacramento, CA. Keep reading for some fun events happening this March. Enjoy this magical family event!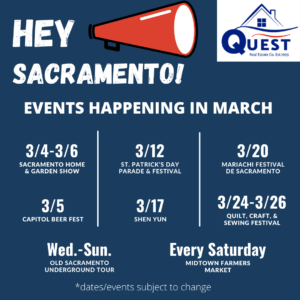 When: March 4-6th
Where: Cal Expo
"The 41st annual fall edition of the Sacramento Home & Garden Show returns to Cal Expo this spring! Meet and learn from top local experts in a casual, comfortable, no-pressure environment. You'll see the newest in landscaping, gardening, patios, fencing, decks, heating and air, solar, insulation, remodeling, new construction, plumbing, kitchens, baths, closets, home furnishings, appliances, lighting, roofing, painting, gutters, home security, windows, doors, siding, tile, stone, granite, BBQs, pools, spas and more!" Learn more here.
When: March 5th
Where: Capital Mall
"Save the date! March 5, 2022 we'll be back out on Capitol Mall for the 12th Annual Capitol Beer Fest! Expect the same high-quality event you've come to know and love that includes four hours of some of the nation's best brewers, a great variety of food trucks, and live music!" Learn more here.
St. Patrick's Day Parade & Festival
When: March 12th
Where: Old Sacramento Waterfront
"If it's the Luck of the Irish you're looking for, come find it at Old Sacramento Waterfront in March!  A parade, live musical entertainment, outdoor beer gardens and a chance to find Leprechauns hiding throughout the charming historic district." Learn more here.
When: March 17th
Where: SAFE Credit Union
"Shen Yun invites you to travel back to the magical world of ancient China. Experience a lost culture through the incredible art of classical Chinese dance, and see legends come to life. Shen Yun makes this possible by pushing the boundaries of the performing arts, with a unique blend of stunning costuming, high-tech backdrops, and an orchestra like no other. Be prepared for a theatrical experience that will take your breath away!" Learn more here.
Mariachi Festival De Sacramento
When: March 20th
Where: SAFE Credit Union
"This year's Mariachi Festival de Sacramento is back and better than ever! Featuring Shaila Durcal, Mariachi Divas, Mariachi Los Reyes, Mariachi Nuevo Mexico, Dinorah and Ballet Nube de Oro!" Learn more here.
Quilt, Craft, & Sewing Festival
When: March 24-26th
Where: Cal Expo
"At the Quilt, Craft & Sewing Festival you will find a wide variety of Sewing, Quilting, Needle-Art, and Craft supply exhibits from many quality companies." Learn more here.
Old Sacramento Underground Tour
When: Wednesday-Sunday
Where: Sacramento History Museum
"Come see and learn how Sacramento lifted itself up out of the flood waters during the 1860s and 1870s! Tour guides explain how the streets and buildings were "Jacked Up!" to avoid further flooding as visitors explore two spaces that were created by the city's successful raising process. This historical tour includes hollow sidewalks, sloped alleyways, and the Underground spaces themselves. Our colorful cast of guides ensures no two tours are ever the same!" Learn more here.
When: Every Saturday, 9:00 am – 1:00 pm
Where: 20th Street between J & L streets and K Street between 19th and 21st streets
"Owned by the Midtown Association, this free, family-friendly market takes place year-round, every Saturday, on 20th street between J and L streets and on K Street between 19th and 21st streets. The Midtown Farmers Market showcases local agriculture, prepared foods, and artisans and crafters while providing an opportunity for Midtown residents and business owners to discover regionally grown foods." Learn more here.
*Dates and times are subjected to change.