Happy February!
There are so many fun things to do in Sacramento, CA. Keep reading for some fun events happening this February. Enjoy this magical family event!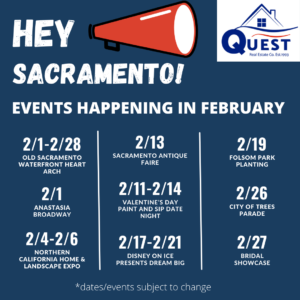 When: 2/1-2/28
Where: 1000 Front Street on the elevated Embarcadero overlooking the Sacramento River
"Feel the love and stop by the Old Sacramento Waterfront during the month of February to see this heart-warming activation! In partnership with Steadfast Craft's own Alyse Porzio, this temporary activation will be located in the public space at 1000 Front Street on the elevated Embarcadero overlooking the Sacramento River, the Riverboat Delta King, and the Tower Bridge shining in the background. Framing the gems of the Old Sacramento Waterfront, this installation will stand out as a place to come celebrate the beauty and connection with our beloved city for the entire month of February." For more information click here!
When: 2/1
Where: SAFE Credit Union Performing Arts Center
1301 L St., Sacramento, CA 95814
From the Tony Award®-winning creators of the Broadway classic Ragtime, this dazzling new musical transports us from the twilight of the Russian Empire to the euphoria of Paris in the 1920s, as a brave young woman sets out to discover the mystery of her past. Pursued by a ruthless Soviet officer determined to silence her, Anya enlists the aid of a dashing conman and a lovable ex-aristocrat. Together, they embark on an epic adventure to help her find home, love, and family." For more information click here!
When: 2/4-2/6
Where: Cal Expo
"For 27 years, Northern California Home & Landscape Expo has brought people from Sacramento and five surrounding counties to enjoy over 1,000 inspiring exhibits, featuring more than 500 different home improvement companies along with DIY features, a Landscape Showcase, interior design ideas, and many special features.
Whether you are planning to build, remodel, redecorate, or just need some fresh inspiration to make your home a haven, please plan to join us!
The Big Show at Cal Expo!" For more information click here!
When: 2/11-2/14
Where: Ebony London Art Studio, 204 23rd St.
Sacramento, CA 95816
Enjoy this Valentine's Day themed paint night for two. Purchase of event includes a two-hour long paint and sip, a bottle of champagne, a gourmet dessert, and all paint materials and supplies. Click here for more information!
When: 2/13
Where: Sleep Train Arena, 1 Sports Pkwy
"300+ vendors from California, Nevada, and other neighboring states selling antiques, collectibles, and vintage goods that are 20 years old and older. Clothing, military, art, jewelry, lighting, glassware, silver, toys, furniture, farmhouse, mid-century, and so much more! Held every 2nd Sunday of the month. No pets please. Food and ATM on site. Look forward to seeing you there!" For more information click here!
When: 2/19
Where: Elvie Perazzo Briggs Park, 125 Manseau Drive Folsom, CA 95630
Join the Sacramento Tree Foundation as we team up with the City of Folsom to help plant more trees at Elvie Perazzo Briggs Park! We will be planting around 30 trees throughout this neighborhood park for all to enjoy. Planting more trees in this park will help increase the amount of shaded walkways, create more spaces to picnic under, and will help clean the air and water for years to come! We provide all the necessary tools and supplies to care for trees. Participants will receive a short, hands-on training on site. After learning the tools and techniques, participants will split up into groups and begin planting trees on residential properties." For more information click here!
When: 2/17-2/21
Where: Golden 1 Center
"Believing is just the beginning at Disney On Ice presents Dream Big. Miguel aspires to be a musician and journeys through the Land of the Dead to unlock his family's history. Moana and Maui bravely restore the stolen heart of Te Fiti, Anna and Elsa save their kingdom and the Disney Princesses inspire with stories of strength, determination and kindness. Share every magical moment filled with breathtaking ice skating and beloved Disney songs and stories that give everyone a reason to believe at Disney On Ice!" For more information click here!
When: 2/26
Where: Downtown Old Sacramento, 5 St. & J St., Sacramento, CA 95814
"The City of Trees Parade will be a spectacular cultural showcase, lifting up the diverse and wonderful culture of Sacramento through the format of MARDI GRAS. On Saturday, February 26, our parade will roll through Downtown and Old Sacramento. There will be food trucks and bathrooms on the parade route, and Lousiana Sue's own Mardi Gras party will be happening in the Freeway Gardens of Old Sacramento, with drinks, traditional Louisiana foods, and live music!" For more information click here!
When: 2/27
Where: Cal Expo
"You will find the best bridal professionals in the wedding industry. Bridal Showcase features professional California d.j,'s, bands, bridal salons (gowns), formalwear (tuxedos), cakes, photographers, videographers, florists, honeymoons / reception sites, specialty items such as favors and invitations." For more information click here!
*Event days and times are subjected to change*