Happy April!
There are so many fun things to do in Sacramento, CA. Keep reading for some fun events happening this April.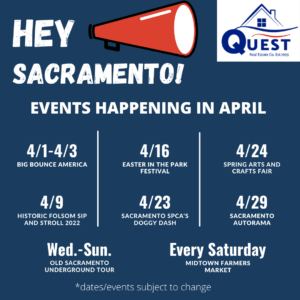 When: April 1-3
Where: 11070 Bradley Ranch Rd, Elk Grove CA 95624
"Welcome to the biggest, craziest touring inflatable event in the entire world! We're inviting YOU to join us and spend some quality time with family and friends in our magical, candy-colored wonderland of action-packed inflatable adventure. Individual sessions are available to suit all age groups from toddlers through to adults only." Learn more here.
When: April 9
Where: Folsom Historic District, 929 Sutter Street
"Join us for this iconic Spring event in beautiful Historic Folsom. Attendees will receive a commemorative wine glass to sample wine at up to 25 venues as well as taste food samples from local restaurants. Live music will play throughout the district. A map to all participating venues will be provided at check in. Get ready to sip, savor and stroll!
You'll visit shops you never knew existed and find the hidden gems of our little town. Don't forget your wallet! Take advantage of event specials offered by our merchants and support local businesses! This is the perfect time to purchase Mother's Day gifts, birthday gifts and more!" Learn more here.
When: April 16
Where: Fourth Avenue Park, 4040 4th Avenue Sacramento, CA 95817
"Join your Oak Park community in celebrating Easter at Fourth Avenue Park, 4040 Fourth Avenue.
There'll be music, vendors, face painting, balloons, prizes, food and (of course) over 4,000 Easter eggs, along with a visit by the Easter Bunny! The fun takes place on Saturday, April 16th from 11am til 2pm. Best of all, it's FREE!" Learn more here.
When: April 23
Where: William Land Park
"On Saturday, April 23, join thousands of walkers at William Land Park and leash up your pups for the 29th Annual Sacramento SPCA Doggy Dash, the SPCA's largest fundraiser of the year and an opportunity to celebrate their amazing commitment of the community to healthy, happy and unconditional relationships between dogs and their people!
Your registration and participation in the Doggy Dash help the Sacramento SPCA provide direct care to more than 35,000 animals each year in our community." Learn more here.
When: April 24
Where: 905 Leidesdorff St, Folsom, CA 95630
"For more than 53 years, Historic Folsom has been hosting this popular and FREE event. Need one-of-a-kind gifts for a birthday, graduation or Mother's or Father's Day? You'll find it at this event. With more than 200 vendors and your favorite Historic District merchants and restaurants, make it a day with your friends and family." Learn more here.
When: April 29th-May 1st
Where: Cal Expo
"The Sacramento Autorama is now in its 71st year. Over 500 show vehicles will compete for awards inside the Cal Expo buildings. The Lowrider Show Case will be in the Pavilion with over 250 custom Lowriders. Local car clubs will gather in the Butch Gardner Clubhouse located in the Expo Center. More vehicles will join the event Saturday and Sunday for the Autorama Drive-In parked in the Building A lot." Learn more here.
When: Wednesday-Sunday
Where: Sacramento History Museum
"Come see and learn how Sacramento lifted itself up out of the flood waters during the 1860s and 1870s! Tour guides explain how the streets and buildings were "Jacked Up!" to avoid further flooding as visitors explore two spaces that were created by the city's successful raising process. This historical tour includes hollow sidewalks, sloped alleyways, and the Underground spaces themselves. Our colorful cast of guides ensures no two tours are ever the same!" Learn more here.
When: Every Saturday, 9:00 am – 1:00 pm
Where: 20th Street between J & L streets and K Street between 19th and 21st streets
"Owned by the Midtown Association, this free, family-friendly market takes place year-round, every Saturday, on 20th street between J and L streets and on K Street between 19th and 21st streets. The Midtown Farmers Market showcases local agriculture, prepared foods, and artisans and crafters while providing an opportunity for Midtown residents and business owners to discover regionally grown foods." Learn more here.
*Events are subjected to change*